Performance / XC / Competition gliders
These gliders are optimised for efficiency at glide and speed. They require expert skills and high airtime to deliver the best performance. They are 'state of the art' with the latest technical frames and sails. They have a performance edge at racing and their speed also makes them suitable for aerobatics. The U2 is included here because although not topless and not quite as fast, it has proven to have close to the same performance.
.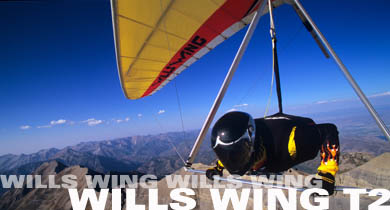 The Wills Wing T2 and T2C are highly developed topless wings with leading design features and the highest build quality. The T2C has most extras including 12mm lightweight super strong battens, carbon basebar, carbon outer leading edges and sprogs as well as carbon kevlar leading edge inserts. Lighter weight and priced very well at present with the low US$, these gliders are at the top of the game in competition and XC flying with loads of international comp wins. Recent success include the World Distance Record of 764kms, 2012 British Champs 1st and 2nd, NZ Nationals won by Neil Howe shortly after receiving his T2C, current and past NZ XC Champs, Omarama Classic. More info here and customer reviews here. Dennis Pagen's detailed review here.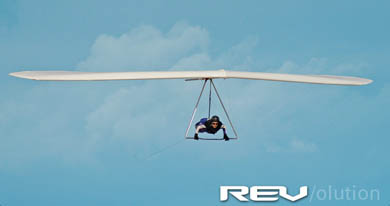 The AirBorne REV is a new topless wing that scored 1st and 3rd at Canungra, Ist at Dalby 2012 then 1st, 3rd and 4th at the 2012 PreWorld Champs at Forbes flying against the Worlds best! It has some innovative features and has the Airborne build quality and handling. It is DHV certified. More info here
.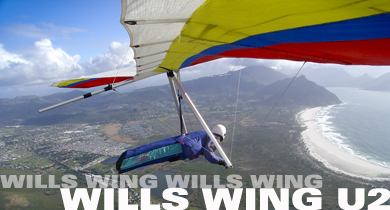 The Wills Wing U2 is for experienced intermediate and above pilots who don't want the extra weight, battens and stiffer handling of topless wings but still want competition performance or the best XC ability. It has a kingpost but no lufflines, using topless style inner sprogs. Choice of low drag aerofoils and aerofoil basebar. The best value in its class. Angus Tapper beat all but one of the topless gliders to come 2nd at the 2011 National Champs. More info here. Reviews here. Fly & Glide magazine review here.