Omarama XC Classic 2017 Update 11/2/2017
There's been quite a few days off due to  strong winds but still some great flights have been done. Here's the preliminary results, There may be more not entered yet.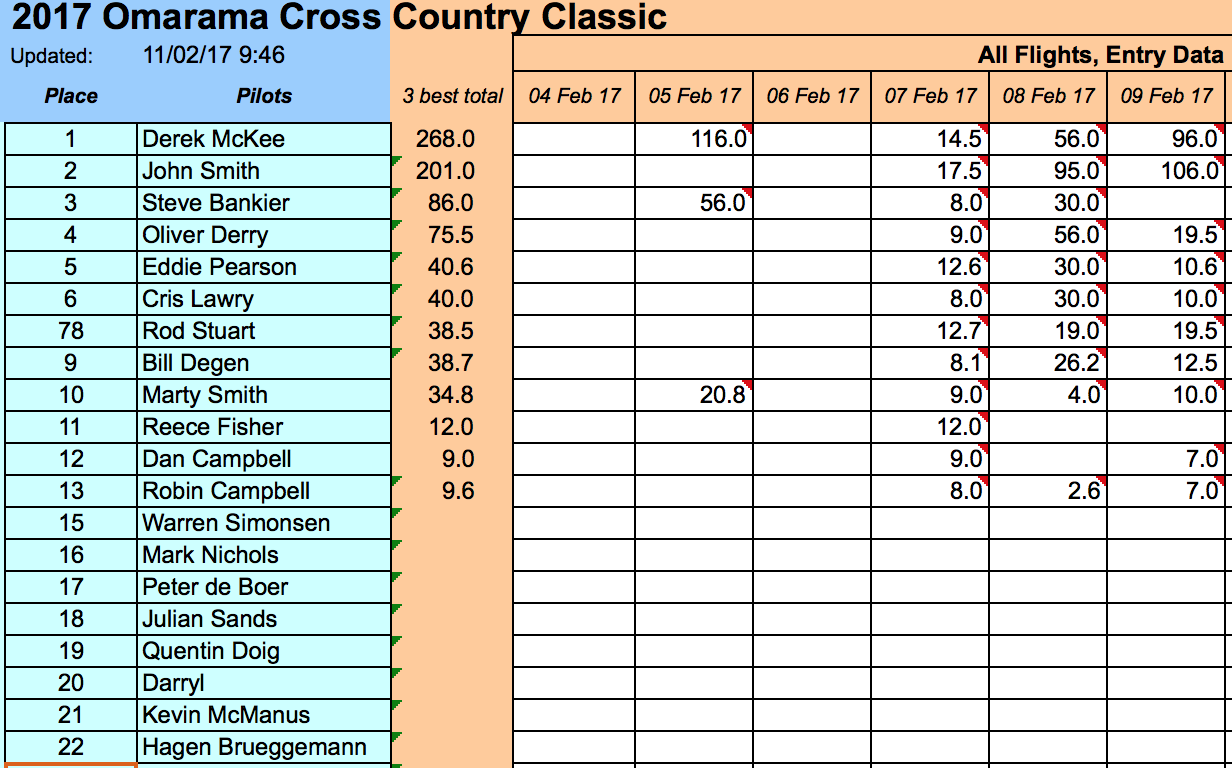 Omarama XC Classic 2017 Update
The 2017 XC Classic is due to start this Saturday 4th Feb and run thru to the 12th. This year has so far been plagued with strong winds so we are hoping the weather will settle for the coming comp. week. Those who have been worried about the condition of the track will be relieved to hear that Pattersons intend to widen the track with a bulldozer this week. The club has asked that we ask $30 per pilot for the week which will help with Pattersons cost to clear the track. 



Long range forecasts are giving conflicting opinions right now but some light days are forecast as is rain. Well we know that often rain dose'nt make it in to Omarama and likewise some strong days turn out to be light. We're all looking forward to getting some spectacular flying at Magic Mountain this year.
 The Omarama XC Classic 2016
UPDATE 9/2/2016
The 2016 XC Classic Camp has finished with just one day off. There was plenty of flying every day and lots of xc kms for those who tried. We had 2 at Mt Cook and 3 at Tekapo with flights in the 80s and 70s on one day. The longest single flight distance was 131 kms from Magic to Teviot (south of Roxburgh).
There were a few pick-up problems resulting in people spending the night out in cars and farm buildings but no crashes in spite of thermals reaching up to 2400fpm and altitudes of over 10000' being reached. The only casualties were vehicle breakdowns.
Warren Simonsen won most days but Bill Degen had the longest flight and highest total kms over 3 flights. The top 3 pilots flew Wills Wing T2C gliders.
The day after was good too with 2 at Lake Dustan and 2 at Tarras flying through the Lindis Pass. 
The table below dosent show all the flights asc some havent entered their flights.
THE ROAD FUND.
We are looking for donations to keep the Magic road safe and less scary for drivers. So far this year the following pilots have donated $20 or more; Bill Degen, Mark Alton, Guy Williams, Warren Simonsen, Andrew Blair, Marty Smith, Kevin McManus, Rod Stuart, Niail Mueller, Mark Nichols, Adriel Kind, 
Pledges: Steve Bankier, Dan Campbell, 
Total received so far this season is $680. The club did a collection last year, I don't know the amount but that will be combined for the next road works.
Please email me at aero@xtra.co.nz if you'd like to donate.
 Thanks everyone, I hope you all get great flying.